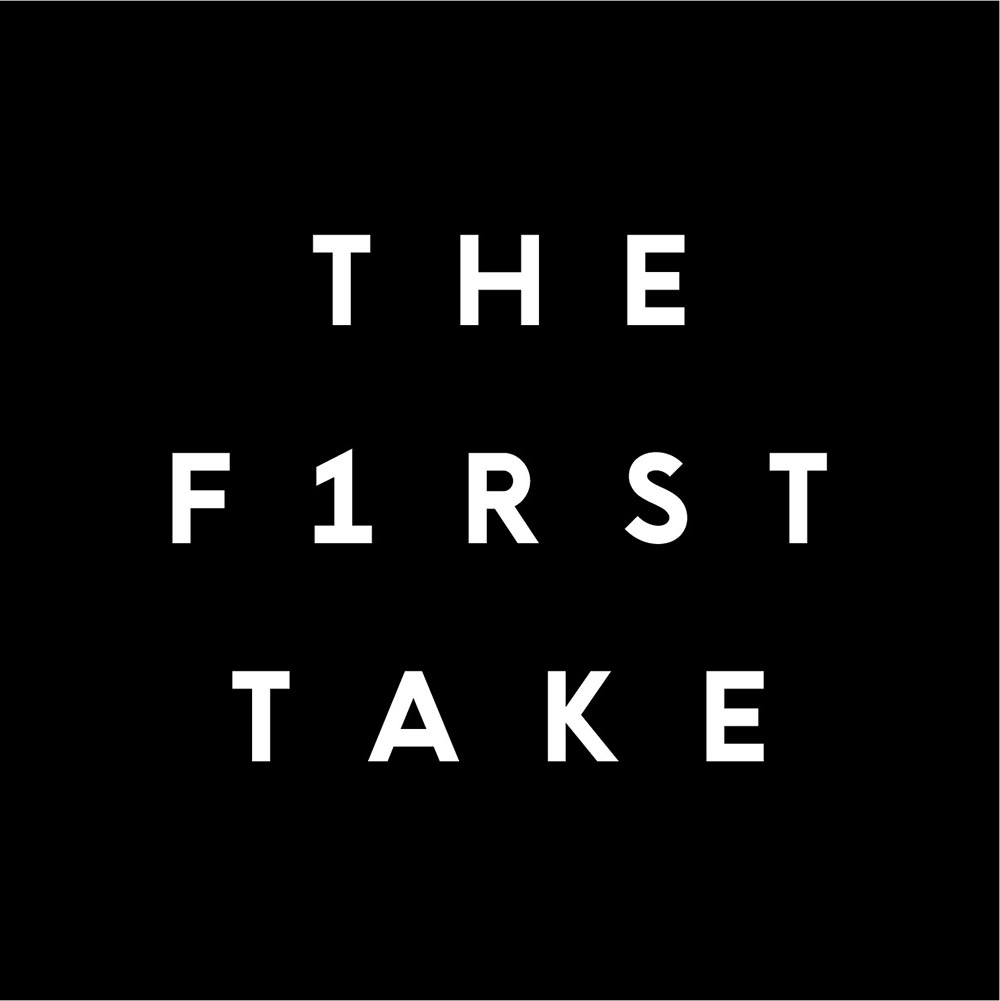 THE FIRST TAKE adalah channel musik YouTube dari jepang yang mengundang penyanyi untuk membawakan lagu dan direkam dalam sekali pengambilan (one take). Channel ini dibuat pada tahun 2019, oleh Sony Music Entertainment Japan.
Video di THE FIRST TAKE direkam di sebuah studio, hanya menampilkan penyanyi dan mikrofon, yang membuat penyanyi seperti penampilan langsung, dengan latar belakang kosong yang berwarna putih. Video direkam dalam resolusi 4K dengan audio berkualitas tinggi.
THE HOME TAKE, content baru yang dibuat pada tahun 2020, menampilkan video sekali pengambilan (one take), yang di rekam langsung dari rumah penyanyi atau studio pribadi. ini seperti mengambarkan situasi Pandemi Covid-19 yang semua dikerjakan dari rumah. Content lain, THE FIRST TAKE FES, yang menampilkan penyanyi dalam panggung live house tanpa penonton.
THE FIRST TAKE
[2019.11.15] adieu – Remastering
[2019.11.23] Rude-α – It's only love
[2019.11.29] Cö shu Nie – asphyxia (piano ver.)
[2019.12.04] adieu – Tenki
[2019.12.06] LiSA – Gurenge
[2019.12.11] Rude-α – wonder
[2019.12.13] Huwie Ishizaki – Sayonara Elegy
[2019.12.20] Cö shu Nie – inertia
[2019.12.18] Little Glee Monster – Itoshisani Ribbono Kakete
[2019.12.25] LiSA – unlasting
[2019.12.27] Miliyah Kato – Aitai
[2020.01.10] Little Glee Monster – ECHO
[2020.01.15] Huwie Ishizaki – Kabin No Hana
[2020.01.17] Soshi Sakiyama – Samidare
[2020.01.22] Miliyah Kato – Honto No Boku O Shitte
[2020.01.24] Kana Adachi – Hitoriyogari
[2020.01.29] Soshi Sakiyama – GESHI
[2020.01.31] wacci (Youhei Hashiguchi) – No Regret
[2020.02.05] Kana Adachi – Hanashi Ga Aru
[2020.02.07] Queen Bee (Avu-chan) – Fire
[2020.02.12] wacci (Youhei Hashiguchi) – Tarinai
[2020.02.14] Gospellers – Hitori
[2020.02.19] Queen Bee (Avu-chan) – BL
[2020.02.21] Sayuri – About a Voyage
[2020.02.26] Gospellers – VOXers
[2020.02.28] Kiro Akiyama – Monologue
[2020.03.04] Sayuri – Mikazuki
[2020.03.06] ASCA – RESISTER
[2020.03.11] Kiro Akiyama – Saruagari city pop
[2020.03.13] Maguro Taniguchi (KANA-BOON) × Mossa (Necry Talkie) – Naimononedari Revenge
[2020.03.18] ASCA – KOE
[2020.03.20] DISH// (Takumi Kitamura) – Neko
[2020.03.25] KANA-BOON (Maguro Taniguchi) – Marble
[2020.03.27] SawanoHiroyuki[nZk]:Yosh (Survive Said The Prophet) – BELONG
[2020.04.01] DISH// (Takumi Kitamura) – Shape of Love
[2020.04.03] Macaroni Empitsu (Hattori) – Seisyun to Issyun
[2020.04.08] SawanoHiroyuki[nZk]:mizuki – aLIEz
[2020.04.10] TK from Ling Tosite Sigure – unravel
[2020.04.15] Macaroni Empitsu – hope
[2020.04.17] Ryokuoushoku Shakai – Shout Baby
[2020.04.22] TK from Ling Tosite Sigure – copy light
[2020.04.24] Ryokuoushoku Shakai – sabotage
[2020.06.26] Stray Kids – SLUMP -Japanese ver.-
[2020.08.07] sumika – Fanfare
[2020.08.14] Creepy Nuts – Nariwai
[2020.08.19] sumika – End roll
[2020.08.21] Masayuki Suzuki – DADDY! DADDY! DO! feat. Airi Suzuki
[2020.08.26] Creepy Nuts – Katsute Tensaidatta Oretachie
[2020.08.28] Eir Aoi – IGNITE
[2020.09.02] Masayuki Suzuki – Koibito~Michi (Kousaten)
[2020.09.04] BLUE ENCOUNT – Yumemigusa
[2020.09.09] Eir Aoi – I will…
[2020.09.11] Dai Hirai – INORIBANA 2020
[2020.09.16] KAMI WA SAIKORO WO FURANAI (Shusaku Yanagita) – Utakata Hanabi
[2020.09.18] CHiCO with HoneyWorks – Sekai Wa Koi Ni Ochiteiru
[2020.09.24] Dai Hirai – Boku ga kimi ni dekiru koto
[2020.09.25] SKY-HI × Tanaka – Nanisama feat. boku no lyric bouyomi
[2020.09.30] CHiCO with HoneyWorks – Shiawase
[2020.10.02] rei – Call Me Sick
[2020.10.09] ReoNa – ANIMA
[2020.10.14] rei × Shin'ya Kiyozuka – Shirayukihime
[2020.10.16] LiSA – homura
[2020.10.21] ReoNa – Niji no Kanata ni
[2020.10.23] ReN – We'll be fine
[2020.10.28] LiSA – Catch the Moment
[2020.10.30] Yuuri – Dried Flower
[2020.11.04] ReN – Life Saver
[2020.11.20] Def Tech – My way
N/A
[2020.11.25] SKY-HI – LUCE
[2020.11.27] Flower Companyz – Shinya Kousoku
[2020.12.02] Def Tech – Like I Do
[2020.12.04] JO1 (Junki Kono) – INFINITY
[2020.12.09] Flower Companyz – Tokyo Tower
[2020.12.11] Yuta Orisaka – Asagao
[2020.12.16] JO1 (Junki Kono) – Voice (Kimi no Koe)
[2020.12.18] yama – Haru wo Tsugeru
[2020.12.23] Yuta Orisaka – Torch
[2020.12.25] Ai Hashimoto – Momen no handkerchief
[2021.01.01] Group Tamashii – Kimi Ni Juice O Katte Ageru
[2021.01.08] JUJU – Yasashisa De Afureru Youni
[2021.01.13] yama – Masshiro
[2021.01.15] Group Tamashii – Mou Sukkari NO FUTURE!
[2021.01.20] JUJU – Konoyoruwo Tometeyo
[2021.01.22] AiNA THE END – Orchestra
[2021.01.27] Little Glee Monster – Dear My Friend feat. Pentatonix
[2021.01.29] TOMORROW X TOGETHER – CROWN (Japanese Ver.)
[2021.02.03] AiNA THE END – Osmanthus
[2021.02.05] SUPER BEAVER – Hito to shite
[2021.02.10] TOMORROW X TOGETHER – Force
[2021.02.12] ZUTOMAYO – Byoushinwo Kamu
[2021.02.17] SUPER BEAVER – I LOVE YOU
[2021.02.19] SIRUP – LOOP
[2021.02.24] ZUTOMAYO – Can't Be Right
[2021.02.26] YOASOBI – Gunjo
[2021.03.03] SIRUP – Thinkin about us
[2021.03.05] Rei Yasuda – Brand New Day feat. H ZETTRIO
[2021.03.10] YOASOBI – Comet
[2021.03.12] HY – 366 nichi
[2021.03.17] Rei Yasuda – Not the End
[2021.03.19] Jun.K (From 2PM) – My House -Acoustic ver.-
[2021.03.24] HY – Good Bye
[2021.03.26] Fumiya Fujii – Koisuru Kalen
[2021.03.31] Jun.K (From 2PM) – THIS IS NOT A SONG, 1929
[2021.04.02] Da-iCE (Yudai Ohno・Sōta Hanamura) – CITRUS
[2021.04.07] Fumiya Fujii – Another Orion
[2021.04.09] Motohiro Hata – Uroko
[2021.04.14] Da-iCE (Yudai Ohno・Sōta Hanamura) – Love Song feat. Takahito Uchisawa (androp)
[2021.04.16] Who-ya Extended – VIVID VICE
[2021.04.21] Motohiro Hata – Naki Warai No Episode
[2021.04.23] EXILE TAKAHIRO – Lovers Again
[2021.04.28] Who-ya Extended – Q-vism
[2021.04.30] adieu – Yorunoato
[2021.05.05] EXILE TAKAHIRO × Haramichan – Motto Tsuyoku
[2021.05.07] HENTAI SHINSHI CLUB – YOKAZE
[2021.05.12] adieu – aitte
[2021.05.14] amazarashi – Kisetsu wa Tsugitsugi Shindeiku
[2021.05.19] HENTAI SHINSHI CLUB – Sukiniyaru
[2021.05.21] Awesome City Club – WASURENA
[2021.05.26] amazarashi – Long hope philia
[2021.05.28] Novelbright (Yudai Takenaka) – Evening Primrose
[2021.06.03] Awesome City Club – MATATAKI
[2021.06.04] CHAI – N.E.O.
[2021.06.09] Novelbright – Sunny drop
[2021.06.11] Shota Shimizu – Hanataba no Kawari ni Melody wo
[2021.06.16] CHAI – PING PONG! (feat.YMCK)
[2021.06.18] Maharajan – Sailor Muntarou
[2021.06.23] Shota Shimizu – Koi Uta
[2021.06.25] FOMARE – NAGAIKAMI
[2021.06.30] Maharajan – eden
[2021.07.02] Sora Amamiya – PARADOX
[2021.07.07] FOMARE – Tobacco
[2021.07.09] Reina – Bokudakewo
[2021.07.15] Sora Amamiya – Eien No Aria
[2021.07.16] Shiritsu Ebisu Chugaku – Nanairo
[2021.07.23] ASIAN KUNG-FU GENERATION – Solanin
[2021.07.28] Shiritsu Ebisu Chugaku x Huwei Ishizaki – Jump
[2021.07.30] Ryuto Kazuhara (GENERATIONS) – Love You More
[2021.08.04] ASIAN KUNG-FU GENERATION (Masafumi Gotoh) × Hiroko Sebu – Empathy
[2021.08.06] HIROMI GO – 240000000 No Hitomi -Exotic Japan-
[2021.08.11] Ryuto Kazuhara (GENERATIONS) × KENNY from SPiCYSOL – Beautiful Sunset
[2021.08.18] HIROMI GO – BELLS OF ST AUGUSTINE
[2021.08.20] miwa – Hikarie
[2021.08.27] ATARAYO – Jyugatsu mukuchi na kimi wo wasureru
[2021.09.01] miwa – KANNA
[2021.09.03] Porno Graffitti – Saudade
[2021.09.08] ATARAYO – Summer haze
[2021.09.10] Nogizaka46 (Sakura Endo) – Kikkake
[2021.09.15] Porno Graffitti – theme song
[2021.09.17] Ikimono-gakari – Kimagure Romantic
[2021.09.22] Nogizaka46 (Erika Ikuta, Shiori Kubo, Haruka Kaki) – yasashiidakenara
[2021.09.24] OKAMOTO'S – 90'S TOKYO BOYS
[2021.09.29] Ikimono-gakari – Kyoukara, Kokokara
[2021.10.01] Yuuri – Shutter
[2021.10.06] OKAMOTO'S – Sprite
[2021.10.08] SPYAIR – Imagination
[2021.10.13] Yuuri – BETELGEUSE
[2021.10.16] Saucy Dog – Itsuka
[2021.10.20] SPYAIR – Some Like It Hot!!
[2021.10.22] Taiiku Okazaki – Naniwoyattemoakanwa
[2021.10.29] Saucy Dog – Yui
[2021.10.29] Stray Kids – Mixtape : OH
[2021.11.03] Taiiku Okazaki – Ossan
[2021.11.05] Mika Nakashima – Yuki no Hana
[2021.11.10] Stray Kids – Scars
[2021.11.12] GLAY – Winter,again
[2021.11.17] Mika Nakashima – Boku ga Shinou to Omotta no Wa
[2021.11.19] MISIA – Ashitae
[2021.11.24] GLAY – BAD APPLE
[2021.11.26] MOROHA – Kakumei
[2021.12.01] MISIA – Higher Love
[2021.12.03] Tomoyasu Hotei – Bambina
[2021.12.08] MOROHA – Rokumonsen
[2021.12.10] SUPER BEAVER feat. Haruko Nagaya – Tokyo
[2021.12.15] Tomoyasu Hotei – Kochia
[2021.12.17] milet × Aimer × Ikuta Lilas – Omokage (produced by Vaundy)
THE HOME TAKE
[2020.05.01] miwa – don't cry anymore
[2020.05.08] milet – us
[2020.05.15] YOASOBI – Yoru ni Kakeru
[2020.05.22] BLUE ENCOUNT (Shunichi Tanabe) – Polaris
[2020.05.29] Omoinotake – One Day
[2020.06.03] DISH// – Neko
[2020.06.05] milet – inside you
[2020.06.10] Kotaro Oshio × DEPAPEPE × Soshi Sakiyama – GUITAR SESSION (Cyborg~ONE~Samidare)
[2020.06.12] SUPER BEAVER – Hitoride Ikiteitanaraba
[2020.06.19] Rinne – snow jam
[2020.07.03] KAMI WA SAIKORO WO FURANAI (Shusaku Yanagita) – Yonaga Uta
[2020.07.10] Yuuri – Kakurenbo
[2020.07.17] Tatsuya Kitani – HIDE AND SEEK
[2020.07.24] Tani Yuuki – Myra
[2020.07.29] MY FIRST STORY (Hiroki Moriuchi) – Hyena
[2020.07.31] Ryujin Kiyoshi – Itai Yo
THE FIRST TAKE FES
vol.1
[2020.09.05] ALI – Wild Side ⋅ Better Days
[2020.09.05] Taiiku Okazaki – YES ⋅ Eclair
[2020.09.05] OKAMOTO'S – Welcome My Friend ⋅ NO MORE MUSIC
vol.2
[2020.11.18] Anna Takeuchi – Free! Free! Free!
[2020.11.18] Cö shu Nie – Zettai Zetsumei ⋅ Black sand
[2020.11.18] Ryokuoushoku Shakai – Mela! ⋅ LADYBUG
[2020.11.18] YUI – TOKYO ⋅ CHE.R.RY
vol.3
[2021.08.13] BURNOUT SYNDROMES – PHOENIX
[2021.08.13] UMEDA CYPHER – Umeda Night Fever 19′ (prod.peko) ⋅ TRAVOLTACUSTOM ft. Haganedatefuron)
[2021.08.13] yama – Mahi ⋅ a.m.3:21
[2021.08.13] CHEMISTRY – PIECES OF A DREAM ⋅ Point of No Return
THE FIRST TAKE SNS dan situs resmi